One of the highest valuable products in this world is jewelry. Both online and offline Jewelry Photo Editing was reaching a new milestone every year and same time prices also increasing gradually. So a jewelry entrepreneur needs to give a strong competition to their competitors in this jewelry products selling in a world market. If anyone in this position just forgets your worries and approach Image Solutions India to obtain your customized image editing service in Retouching Jewelry Product Photos. Jewelry photo editing services needed more imagination knowledge to create shadows, reflections and shining in Jewelry photo editing techniques. Image Solutions India ensure that our Jewelry Photo Editing team was having extraordinary knowledge and ability to create this Jewelry Photo retouching service with more precious, sparkle and shining.
Outsource Jewelry Product Photo Retouching Services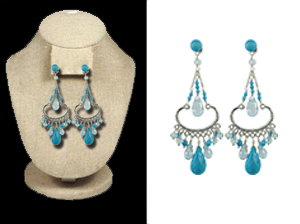 Globally Image Solutions India is prominent by providing its high quality of jewelry Photo editing service with affordable price. Editing jewelry images will attract more customers to increase your business and the same time it is a complex process. However, Image Solutions India will do by its past years' experience to make dull to dazzling effect and advanced editing techniques. 100% Customer satisfaction in jewelry image retouching service is our unique character by providing Jewelry Image Retouching Services for diamonds, gems, rings, bracelet, pendants, watches, chains, necklaces and jewelry from pearls.
Jewelry clipping path service
Jewelry clipping path is basic editing for jewelry retouching, to implement removing background, adding a new background, removing unwanted part by cutting out and for all other important services.
Reflection shadow creation service for Jewelry Products
Jewelry Reflection shadow for your image is crucial. Because of, those reflection shadows are giving more eye impression for your customers. Image Solutions India's professional team will create reflection shadows depend on upon its shape with natural effect for your entire jewelry products.
Gemstone Retouching Service in Jewelry Retouching
Jewelry stone shining service will give more shining for the jewelry stones to impress more website visitors through online. Naturally human being eye will stop some minutes while it sees some sparkle, shiny and lighting.
Dust Removal in Jewelry Product Photos
During the Photography process of Jewelry products, most of the photographers are fails to clears dust in the products. It comes under Ecommerce product category, so we changing your dusted images into clear images by our professionals, without damaging original quality.
We are having capability and responsibility to handle any of the Jewelry image editing techniques. Jewelry Photo Editing Services are,
Jewelry Photo Cut-Out Services

Jewelry Product Backgroud Removal

Scratches and blemishes removing

Jewelry Photo Color Correction

Straightening and aligning

Redrawn for ring back shanks

Gemstone Retouching Services

Change Gemstone & Gold Color

Dust removal with reflection set up

Making Stone More Shinning

White and Yellow Gold Retouching

Clear Dust & Remove Bad Reflection

Metal and Precious stones color adjust

Fashion Jewellery Editing Service

Retouching Diamond Jewellery

Jewellery Product Background changing

Multiple Clipping Path

Jewelry Product Editing and Retouching

Producing blinks with reflections

Custom Jewelry Retouching service

Dusts, Scratches and Spots Elimination

Removing Dullness and PoorReflections

Removing Unwanted parts and Water Marks

Pandants, Bracelets Product Retouching

Necklaces Jewelry Product Retouching