Optimizing your images has never been easy. We could not take images with a brighter look, shiny eyes and glorious skin without making any photography adjustments. There are many online applications available in the market to beautify your photos. But, without missing any details of your images, you can enhance using manual photo beautification techniques. Improving image details in Photoshop and image editing tools will probably bring out 100% outcomes. Editing your personal, product, e-commerce, real estate and other types of photographs with experts graphic designers help is possible with Image Solutions India.
Our graphic designers are having excellent skills in photo retouching and image restoration techniques. We provide many possibilities to beautify your photos using the following techniques such as color enhancement, beautifying skin tone, lengthen eyelashes, removing dark spots, blemishes, and wrinkles.
Look amazing your photos – Advanced photo retouching:
Graphic designer professionals at image solutions India specialized in basic retouching and advanced photo retouching techniques. Our professionals are using manual retouching and editing to manipulate your images look more professional than their original. There are many online and advertising industries are using our specialized photo editing and retouching services to enhance their website portals.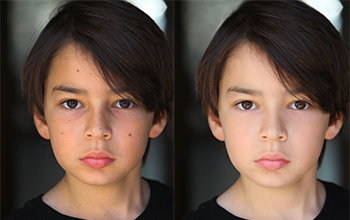 Basic photo retouching to beautify your images:
Every business people are spending a lot of money to capture their images with artistic photo effects. Correcting colors, eliminating unwanted distractions, adjusting exposures is the initial adjustment every photography needs to be adjusted. Creating realistic composites to your multiple captures, blending exposures, adjusting brightness and contrasts, shadows and highlights adjustments, color conversions, removing grains and noise and removing unsightly distractions in your images can be done with professional photo retouching technique.
Our photo beautification techniques cover the following,
Photo restoration

Removal of backgrounds

Retouching eyes

Removal of red eyes

Face and body retouching

Colour corrections

Exposure adjustments

Sharpening blurry photos

Remove grains and noise

Background editing/background replacement

HDR photo editing
Restore your family, wedding, school and automobile photographs:
Bring your damaged photo memories back to their original glory using our photo restoration techniques. Removing photo scratches, dust, and blemishes in your old, damaged images and turn them back using digitally editing and colorization techniques. We can restore any category of images using suitable image restoration and editing techniques.
Restoring torn images

Repairing water damaged images

Adding color to black and white images

Antique/partial photo restoration

Product photography retouching

Adding missing elements

Remove spots, blemishes and strain damages

Digital photo manipulation
Photo Restoration Services for High Resolutions Images:
Do you have low-resolution images with bad lighting, too noisy and blurry edges, don't get worried. Send your images to us. we can accept any format of imaging inputs and convert them into the desired output formats according to your requirements. We can convert your low-resolution images into high resolution by professionally editing them.
Photo retouching experts at image solutions India familiar with image editing, image manipulation, image retouching, image restoration, image illustration, image conversion techniques to enhance your photos. Send your RAW, JPEG, PNG, TIFF, GIF or any other images to our team and get high dimension images. For more details send us quotation for us. we can help you to predict the best quality images to boost your marketing.
Restoring your treasured photos vs. Digital photo editing techniques:
Digital photo editing technique used to modify your damaged photos with original glory. Applying advanced photo effects and eliminating distracting elements is the basic things involved to beautify your photographs. The graphic designers at image solutions India having years of experience in altering your images using advanced photo editing effects.
Our digital photo enhancement techniques involve tear, crease and rip removal, correcting color casts, removing people and objects, airbrushing effects, retouching eyes, face, and body, eliminating distracting image elements, color conversion and rebuilding missing elements. Our photo beautification techniques mainly used for e-commerce business owners, website owners, social marketers and other professionals to keep their images on their portal.