Face smoothening or retouching skin is the important Photoshop restoration/retouching technique. Due to natural disasters or other reasons, sometimes your photographs might have damaged. A photo restoration service provides an alternative way to rid of your images with reducing shadows and blemishes away from your photographs. Image Solutions India having excellent photo retouching experts who can efficiently fix your photography damages in the easiest way.
Face retouching technique – Smooth and Remove:
Retouching face areas and bring out flattering results. Retouching skins using photo editing techniques and delivers smoother outcomes. Retouching faces included removal of blemishes, removing wrinkles, retouching and cleaning eyes and hair areas, removing birthmarks and moles, fixing sticky out ears, reducing chin fat/double chin, slimming down arms fat etc. By applying color and contrast adjustments we can change skin tones with the glossiest look and feel. Face retouching techniques especially enhance models and fashion photographs for advertising purposes.
Amazing results with Face retouching services using Photoshop:
Our retouching experts can repair scratches, tears, and spots in your older photographs using our digital image retouching services. We deliver glorious results with basic and advanced photo restoration technique to improve your photographs and bring excellent results.
Face smoothening technique covers the following activities are Removing lessen wrinkles, Removal of under eye dark circles, Removing acne in face areas, Whitening and fixing the eyes, Removing of stray hair, Removal of spots and scratches, Removing blemishes, Removing wrinkles, braces, and eye bags, Removing diminish spots in skin, Softening lashes, Face color correction, Double chin removal or facial reshaping, Whitening the teeth.
Types of skin retouching technique using photoshop:
Get smoother skin using Photoshop

Change skin tone

Removing freckles

Softening skin

Realistic perfect skin using face retouching

Soft glow with smart filters

Auto levels adjustments

Applying shadows and highlights

Improving the tonal range of your photos

Restoring hidden details

Merge layers with blend modes

Composition and auto alignment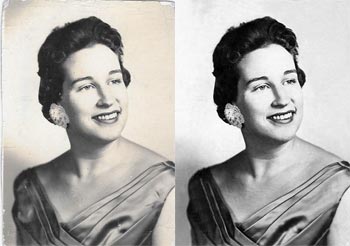 Retouching white spots and scratches:
Retouching spots and scratches in your damaged photography with simple retouching. Photoshop clone stamp tool and healing brush tool efficiently enhance your personality in your images. Our skin retouching technique helps to bring out details from darker and lighter areas in your images.
Lighten the darkened areas:
By adjusting color, shadows and brightness levels using Photoshop tools, our designers can predict your skin/face areas without missing its details.
Correcting the uneven background:
Eliminating the uneven backgrounds by cropping and resizing it according to the original pixel of your images. Our photoshop clipping and masking technique help to eliminate unwanted elements in your backgrounds.
Skin retouching technique in Photoshop:
Photoshop tools allow retouches to edit your images and bring realistic and perfect skin effect without affecting its original quality. Our skin smoothening service helping for old, torn and damaged photographs to restoring them back.
Touch up layer technique

Frequency separation technique
Remove flakes, marks, blemishes, spots, scratches in your face/skin areas to create final polished images with 100% original quality. Frequency separation technique applicable for basic skin retouching as well as advanced skin retouching. Our photo retouching experts can easily retouch your images using smoothening, retouch and airbrushing technique in Photoshop. Our retouching services help much advertising, media and studios industries to beautify their images to promoting it over online mediums. Get a free sample of face smoothening or skin smoothening service from Image Solutions India and see our quality of work.