There is a great deal of reasons why a photo may have stains, yet our principle concern is disposing of them. Some stains will be simpler than others. Photography may affect due to so many factors. The number of restoration techniques in photo editing technology will give the solution to your damaged photography. There are numerous sorts of terrible episodes may happen to your old photograph recollections. Because of flame, water and oil harms will make your old photography looking exceptionally dull. Restore your heavily affected images with Photoshop tools. Removing stains, creases, blemishes from your photos will provide in-depth details to your colorful photo memories. Image Solutions India provides complete photo restoration solutions to rid of your damaged photographs.
Photoshop clone stamp tool to remove stains:
Clone stamp tool will give the better solution to worn areas of your photography. By eliminating the unwanted areas using clone stamp tool helps to replace areas that are missing.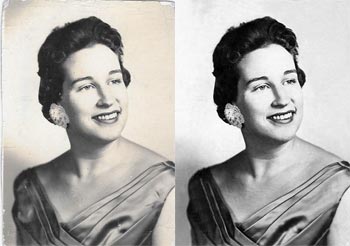 Using Brush tool to remove creases in your photography:
Using the healing brush tool to re-establishing this photograph is to utilize the Dust and Scratches channel to evacuate the stray spots and frayed edges from your damaged photographs. This channel smooth's out the pixels by obscuring the damaged portions just marginally. This is fine for the foundation, yet the subjects—the youngsters—ought to be kept as point by point and sharp as could be expected under the circumstances. To do that, you'll have to make a choice that incorporates just the territories you need to blur.
Rid of your photos from scratches and tears:
In photo restoration technique, the involvement of clone stamp tool and healing brush tool creatively reduce the scratches in your photos and tears.
Steps to remove stains from your photographs:
Create new blank layer from backgrounds

Select healing brush tool in Photoshop

Select the sample mode to All Layers

Uncheck Aligned

Click on any area to try a sample

Paint the affected areas with brush tool

Reduce the opacity of the selected layer
The same procedure is also applicable to remove unwanted wrinkles in your photographs. Photo restoration technique covers basic stains and creases removal into high-level image modification to turn your ordinary photography look more excited.
Touch up your images with restoration techniques:
A simple touch up on your dull looked photographs, make them entire look totally different than their original copy of the image. Photo restoration experts at image solutions India apply all kinds of image improvements techniques to give a glorious look to your photography. Our photo restoration services not only cover removing stains, creases, wrinkles etc. It also includes color correction, grains, and noise reduction, black, and white to color conversion, removing distracting elements etc.
Digitally restore your photographs with Photo Restoration Services:
Photo restoration professionals at image solutions India understand your image conditions and select the suitable image alteration techniques to boost your photography. Removing blemishes, dusty, dirty parts, backgrounds, watermarks, stains and creases will make your photographs look stunning. Our graphic designing team is well expertise in photo restoration work. Hence, whether how complexity task it may, they will provide 100% quality solutions. Send your sample images to us for a free trial to see our work before submitting your project to us.